We specialize in technology development from concept to operational realization by providing our diverse clients a wide range of customized technology and business services. Our goal is to develop and extend promising new technologies and transition/bridge them into real-world situations.
Our status as a trusted client-partner and non-profit organization is valuable to build collaborative partnerships of multi-agency cross-sector teams to address technology and societal challenges. Our public-private partnerships are well positioned for external funding from a variety of federal, state, and private sources.
Download a 2-page highlight of our Services
Our Services
We are a proven partner offering full-service technology strategic planning, development, deployment, and management services.
Key services include:
Sustainability Solutions for Agriculture: We develop and operate information systems for farmers that integrate precision agriculture, conservation management, and economic data to facilitate the widespread adoption of conservation management best-practices.
Data Collection and Management Platforms: We create platforms focused on intuitive data collection interfaces, data quality management, and data protection and security.
Custom Software Solutions: We create custom software and applications to collect, convert, process, and generate claims, environmental metrics, and economic results from agriculture. This includes QA/QC processes for data collection and data processing.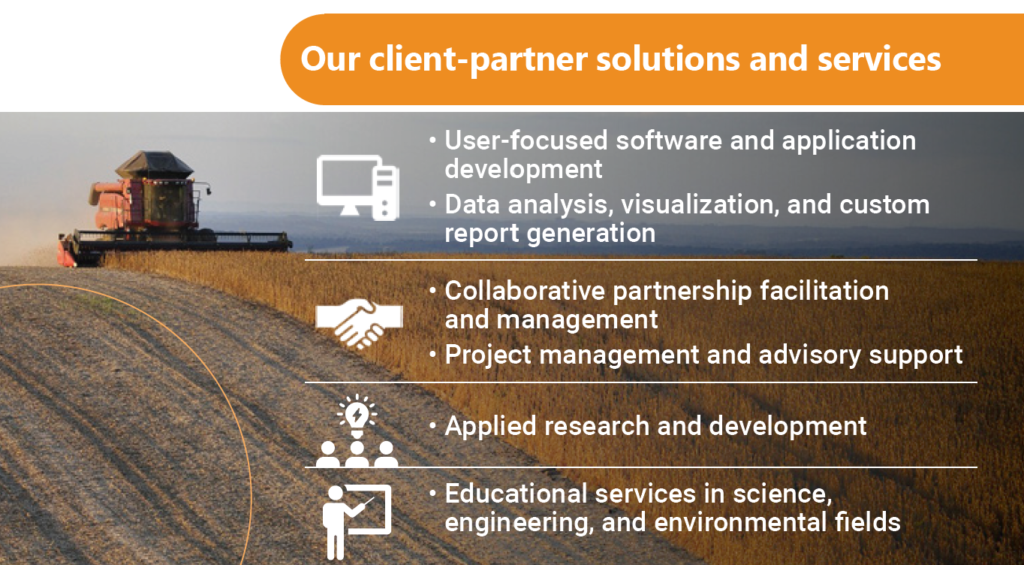 ---
Technology Services: Full-Service Consulting
Software development from web and database applications to computational engineering and high-performance computing
Design capability, user experience and user interface design capability
Application programming interface (API) design and development
Data analysis, visualization, and infrastructure provider
Software development best practices and infrastructure guidance and solution provider
Hosting services (cloud or private)
Project management solutions
Trusted data maintenance
Business Consulting & Support Services: Start-Ups & New Technology Support
Proven technology partner for concept development, technical design, and technical implementation
Support services to manage and evolve new technologies
Collaborative business services to identify and establish partnerships
Branding and marketing support
Program management
---